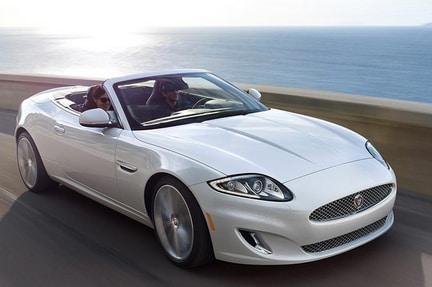 �
As a luxury car dealer, Cherry Hill Classic Cars is dedicated to providing auto shoppers with an inventory of vehicles that speaks to the wants and needs of every shopper. While we have a broad inventory of new Jaguar vehicles for sale, we also wanted to make luxury vehicles more accessible. That's why drivers will be delighted to find that we're also a luxury used car dealer near Langhorne , offering high quality used and certified pre-owned luxury vehicles to auto shoppers in the area.
Everyone deserves a little bit of luxury in their life. At Cherry Hill Classic Cars, we believe that the luxury driving experience makes driving enjoyable. Comfortably sitting behind the wheel with the latest gadgets and technology features allows for day-to-day driving to be enjoyable again.
One of the most important tenets of our dealership is delivering the highest level of customer service to our shoppers. Our sales team is dedicated to making sure that every driver who comes to our facility has their needs thoroughly met. We listen to the concerns of our shoppers to help them find the perfect fit for their automotive needs. We believe that a luxury shopping experience is just as important as finding the right luxury previously owned vehicle.
Drivers will find a sterling confidence within our inventory of used vehicles that transcends any dealership in the area. Every used car in our inventory has been thoroughly inspected and tested for the highest quality by our technicians. If a vehicle doesn't meet our quality standards on every level, then it's not put out for sale. It's that simple.
Langhorne Luxury Certified Pre-Owned Ready to be Test Driven Today
When shoppers come to us for top-of-the-line used vehicles, they can also look through our inventory of certified pre-owned models. Our select certified pre-owned vehicles offer shoppers the qualities of a newer vehicle while still offerings a used car's price.
�

Our Langhorne area used car dealer is also constantly offering specials and incentives to promote drivers saving a little extra when they enter the market of a pre-owned luxury vehicle. Our specials will help save costs and get drivers behind the wheel quicker than ever. By staying up to date on our offers and coupons on our websites, shoppers can save money on used vehicles with us when the time is right.
�

Our Langhorne luxury�certified pre-owned dealer�is ready for drivers to come in and discover all of the luxury of our dealership that's outside of just our new model inventory. Cherry Hill Classic Cars is ready to show drivers what used car shopping should really be like. To learn more about the used vehicles within our inventory or to schedule a test drive, please call us today at�(877) 438-8072!

�